Angie Sampson, the Operations Director at Covenant Pines Bible Camp, recently took a sabbatical. Employees at CPM are eligible for a sabbatical after five years of service. Below are Angie's reflections on her time. 
It's a quiet snow filled morning on Davis Lake.  The lake is frozen. It's quiet at home and at camp.  The Christmas tree is full of lights.  Advent season is upon us.  Mornings at home like this, Christ seems closer.  Stillness and closeness bring Him closer to me.
Four months ago CPM gifted me a four week sabbatical mid August through mid September.  Notice that I used the word 'gifted'.  For an organization that sees the need for all those that serve full time to receive this gift is extremely unexpected. Advent Season seems like a perfect time to reflect on the present of this time.
The most asked question leading up to my time away was, "what are you going to do?"  I kept finding myself a bit taken aback by the question.  Being such a 'doer' myself I kept thinking, I feel like I'm being called to not do.  To take a break from doing. When you look up the word 'sabbatical' there are many definitions and plans but the one that I found most useful and defined my time is this one.
The rest can be just that, no particular schedule or agenda.
The renewal part can be some planned activity or experience that you know will be life-giving
In the midst of it I would say that Jesus met me and gave me two major take aways. My hope in sharing is that God has something for you too.
Never Alone
I left for my sabbatical at the tail end of summer youth camp season. How thankful we were to welcome youth campers back to camp for Summer 2021.  It brings with it high energy, much joy and fun.  Serving at camp is a fast paced fruitful experience.  The first day of my sabbatical I drove away on my own for a week long retreat in Tennessee.  My van felt quiet.  I felt alone but as I left the driveway I was greeted with love and well wishes. Our staff had made signs all down the drive that encouraged me as I left. I felt known, seen and loved.  But still the farther away I drove from home and camp the more I wondered what in the world I was doing. As I crossed into Madison, WI out loud I said, "Lord, what I am doing? I feel so alone." Christ met me in my Honda Odyssey Van.  He said, "I am here."
Jesus and I now go for drives together all the time.  I lean over and buckle him in.  I look over and we talk about all the things.  I have learned to feel his presence in my life more clearly and to 'see' him with me in the passenger seat.
PAUSE & PEACE
To continue to feel God's presence in my life I take at least two times a day to stop, pause, and remember.  I give him everything and everyone including me.  There are so many great resources to help set this discipline.  I've been using the Pause App.  At set times twice a day I pause, and it helps me remember who has it all and it's not me!
Taking the time to pause has filled my life with a renewed peace.  Hear me say this is not always the case.  I'm still learning and growing but a healthy Angie returned from her time away.
Following my 10 days away from home God continued to work in my times of quiet but also in my time with family and friends.  Rest, fun, and peace surrounded me. I reconnected with friends outside of camp, hit the State Fair a couple of times, had a couple of over nights away, went to a Twins Game, and continued to rest in God's presence and fun. How thankful I continue to be for this time and for the fruit! A huge thank you to the CPM Board and the staff at camp for the extra work they did to make this time possible for me!
Camp has looked different in Fall 2020 but God has still been a work.  Emmanuel and Excelsior Covenant both had plans to do a Confirmation Retreat and a Youth Retreat.  The 'how' to do a retreat at camp has been complicated by COVID- but it is not impossible. Covenant Pines has worked hard to do all we can to make camp as safe as possible and we are thankful to Emmanuel and Excelsior Covenant for their desire to work together and get their families and students to camp.  Here is what they both had to say about the retreat experience, both churches had this fall at Covenant Pines.
Chris Studenski, Founding and Senior Pastor
Emmanuel Covenant Church
We were created for community.  What better place to foster it than CPBC's beautiful, four-season setting?
Yes.  It CAN be done!  We just brought 100+ to camp and would do it again in a heartbeat!
If planning a COVID-conscious Fall Retreat wasn't challenging enough, we got hit with record cold and snow!  It would have been tempting to throw in the towel, but we're SO glad we didn't.  With the help of the remarkable team at Covenant Pines, we were able to give our church family memories that will last a lifetime.  We found ways to safely sing outdoors around multiple campfires.  We found ways to safely enjoy games.  We were able to conduct physically-distanced sessions and services that brought us together.
And…. the food was just as amazing as always!
The Covenant Pines facility is like a Swiss Army Knife.  The CPBC staff can help you make the most out of it.  If you have ideas, they can help you bring them to life in safe and responsible ways.  If you could use some creative help, they can draw from their own wealth of experience along with best practices from all around the country.  Regardless of your sense of readiness, the team at Covenant Pines can help you prepare for, and guide you through, an event that people will thank you for.
It could be a long time before things return to normal.  There are a number of wise voices saying they never will.
In a time when so much has been taken away, an event at Covenant Pines is a gift that you can give your family, friends, or church.
Kris Causton, Creative Resource Pastor
Excelsior Covenant Church
Our fall confirmation retreat is a significant time for our students to connect with each other and to dive deeper into the focus of teaching for the year.  We really did not want to miss out on the impact of the retreat but knew with Covid that we had to make some changes.  So, instead of piling 20+ kids into two vans and rooming together in a few cabins, we asked for parents to come along with their child and room together.  The retreat center gave us enough room for each parent and student to have their own living space/bathroom, and the south side of the dining hall had enough room to distance for our teaching times.  The beautiful outdoor space at Covenant Pines was part of our learning and connecting space in so many ways.  We had teaching time on the beach, played games outside, shared a bonfire, and outdoor free time  gave kids time to be together in ways they cannot indoors.
It turned out to be a wonderful weekend!  Parents and students who were skeptical about the presence of so many adults were either pleasantly surprised or at least glad to have a retreat rather than not!
Lindsay said, "I felt like we ran 4 retreats:  a student retreat, a parent/child retreat, a men's retreat and a women's retreat all in one as we watched different groups interact."
Thank you Covenant Pines, for welcoming us, working with us, and investing in our ministry!
If you are interested in discussing what your church retreat could look like, start by reaching out to our Guest Service Director, Angie.
"I have a child here in tears here that would like to come to the Trailblazer Retreat that starts today."
Camp received this call from a foster mom, Monica, on the Friday of the Trailblazer Retreat we held the weekend of February 15-17. We were finalizing all the last minute details of the weekend. What a crazy blessing it is for us to have over one hundred 3-6 graders loving winter and worshiping Jesus together! These campers come from all different kinds of places and families.
Monica is an amazing woman from Community Covenant Church. We think the world of her. She cares for kids in such a way that they find Jesus through her love. In the midst of hard circumstances that God only knows, they make their way into Monica's home. On that Friday, Monica and I had an amazing conversation. She believed it was no accident that this boy arrived at her house Thursday evening, the day before this retreat. He was supposed to attend camp with her kids. God had a plan for him to be at camp and it was truly our gift to welcome him here.
In the midst of the conversation she was able to share how sometimes midst of hard circumstances, God shows up with these sweet reminders of the plans He has for these kids. It was a gift from God that this little boy arrived at her home when he did. We found space for him and worked with Monica to get him on the bus. Throughout the weekend, he seemed to have an amazing time. 
Recently, I had a chance to check in with Monica, as we helped her get her and her kids registered for our August Family Camp. The list of kids in her family account is long and at this time she is unsure who all will join her and what kids might find her way to her home in August. But her heart is so so good and she shared some sweet reminders that were inspiring to me:
"God continues to do amazing things. I shouldn't be surprised because He continues to show up and He does it all the time!"
"I may not have Silver and Gold but I have love."
"I might not know their situation but I can help."
What is it that God is showing you to do? How is he asking you to show up? Over and over again Monica talks about the blessing Covenant Pines is to her but she has also been a blessing to us. Oh the many ways God has used her and her kids to teach us. She's taught us to look for the amazing ways He is at work and to be open for to the ways He's asking us to show up!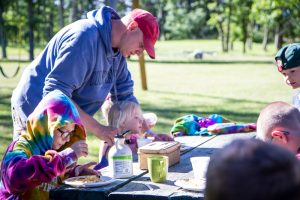 Silver Beach Family Camp offers a unique opportunity for families to spend focused time together and Experience the Community of Christ. Since 1994 Dennis and Beth Holman have set aside a week every summer to connect and grow with family and friends at Silver Beach. Summer 2017 marked their twenty fourth summer here. We had an opportunity to sit down with them and hear about what Silver Beach has meant to their family. What they said can really be summarized in these simple and impactful ways.
ANTICIPATION- There is an excitement as they pull into Silver Beach that they can't describe and they talk about for months prior to arrival. Every year brings new excitement for how God will work through what they do, how they spend time together, and the memories that are made. They said coming to Silver Beach feels like coming home to just spend time with each other.
BUILDING RELATIONSHIPS- God works in amazing ways while they are at Silver Beach. Dennis had this to say about how this intentional time is set apart in a new generation, "Families are being torn by so many different diverse opportunities that draw our attention away from each other. Silver Beach gives God the opportunity to reconnect and establish solid connections."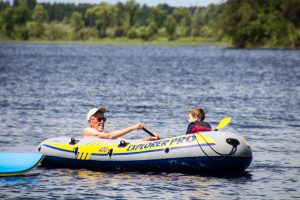 INTERGENERATIONAL CONNECTIONS- As the Holmans enter their twenty fourth summer at Silver Beach, their family looks a lot different than it did when they first came up. They now enjoy several generations, all connecting with each other. This year, two-year-old grandkids were experiencing a lot of "firsts." They went fishing and tubing, they tye-died a tshirt and braved the rope swing all for the first time. The parents got to share in these moments and look back on their first time doing those same things.
NEXT STEP- We asked the Holmans how Silver Beach has encouraged their family take some Next Steps over the years. They pointed to the opportunity to see God in his creation; the daily sunsets, the stars in the night's sky, the gift of the beach and beauty of the lake. They said it's easy to see God's fingerprint at Silver Beach. It is also clear to this family how he moves in the community of friends that become family and how God works behind the scenes in these relationships. Their time at Silver Beach has left marks in their family legacy!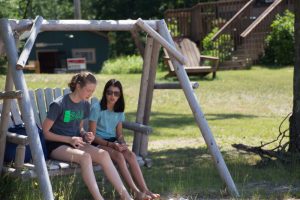 When we asked why this week continues to be a priority for them, the Holmans answered, "God's working in our family, our kids, our grandkids, and that is what continues to make a week at Silver Beach a priority." The Holman testimony reflects just one family's story. There were many families blessed by Silver Beach and the community God forms and brings together. It has been a true blessing for us this summer to be apart of the plans He has!