Covenant Pines Ministries
DAVE CAIRNS
CPM EXECUTIVE DIRECTOR
Dave's history with Covenant Pines goes back to 1973 when his father was hired as the first year-round employee of CPBC. Since then Dave has worked for Covenant Pines on summer staff, as a Program Director, and as the Camp Director. In the Spring of 2015, Dave was hired as the Executive Director of Covenant Pines Ministries. Dave lives in the Twin Cities with his wife Becky and his three children, Trent, Drew, and Annis.
HOLLY ABRAMSON
DIRECTOR OF MARKETING & OFF SITE MINISTRY
Holly joined the CPM staff in the fall of 2019. Holly is no stranger to Covenant Pines, growing up attending the Bible Camp as a camper, jr. staffer and summer staffer.  Prior to working for CPM, Holly spent five years working as the Program Director at Covenant Pines Bible Camp and two years working at Minnehaha Academy. She and her husband Miles, live in Minneapoils.
Adventurous Christians
MATT WHITE
CAMP DIRECTOR
Matt White has served in a variety of camp positions covering over 20 years.  A graduate of Honeyrock's Wilderness Leadership Practicum (Wheaton College), Matt spent 6 years as a facilitator for Inter-Cultural Leadership Initiative in Northern Wisconsin.  He worked two years as Camp Director of Camp Kaskitowa (MI) and Program Director of Camp Nawakwa (WI) for five years.  Stepping out of camping in 2013, Matt spent a year working at Lutsen Resort.  He most recently has been self-employed as a remodeler while providing hospice care for this father as well as serving as a Personal Care Assistant for his nephew.
LINA SWANSON
Guest Service Director
Lina came to AC through her history at Covenant Pines Bible Camp as camper, junior staff and counselor.  After two years of teaching, she joined the AC team fall of 2018 as program staff.  In the last year she has done most everything AC had a need for: leading trips, organizing gear, Retreats, Bobcat driving, training her new boss, running the kitchen and being up to help anybody with anything. She started as the Guest Service Director in September 2020.
Sami Kuplic
Kitchen Supervisor
Sami grew up in Apple Valley, MN and has always loved cabins and the outdoors. After graduating from high school in 2020 she decided to take a gap year to serve at AC as Kitchen Supervisor. She is looking forward to getting a taste of working in ministry and growing in her faith.
Riley Smith
Program Staff
Riley started as AC Program Staff in September 2020. Having graduated from UW Stevens Point with a degree in forestry, he has spent the last few years working in wilderness ministry and environmental education at various camps around the country. An enthusiastic and accomplished outdoor lover, photographer and writer, he is excited to be introducing people to the wonder of outside.
Covenant Pines Bible Camp
MATT BRAUN
CAMP DIRECTOR
Matt joined CPBC in the fall of 2012. He is originally from just outside of Chicago, but has also lived and worked at two different Covenant camps in Michigan. He is a graduate of North Park Theological seminary and a pastor in the Covenant Church. Matt and his wife Beth have three daughters, Malin, Elsa, and Ingrid.
NATALIE SWANSON
PROGRAM DIRECTOR
Natalie started the Program Director role in the Fall of 2017. She grew up on a farm near Princeton, IL with her parents, older brother and twin sister. She graduated from North Park University in Spring 2016 with a youth ministry and biblical studies degree. She also served year-round at Covenant Point Bible Camp (Iron River, MI) before coming to Covenant Pines. She served for many summers at Covenant Point and has continued to fall in love with camp and the place it provides for everyone to experience God differently. She loves coffee, any sort of game, and exploring outside. She loves seeing people fall in love with camp and seeing how God uses camp to reveal himself to us.
ANGIE SAMPSON
RETREAT MINISTRY DIRECTOR
Angie joined the full time staff in 2014 as our Guest Service Director after two summers of serving as our Silver Beach Director. Angie and her husband Josh, who teaches Tech Education in McGregor, are humbled, honored, and excited to be a part of the Covenant Pines community with their 3 children, Ethan, Max, and Tessa.
Pam Lofgren
FOODSERVICE DIRECTOR
Pam was introduced to Covenant Pines the summer of 2012 after feeling called to serve in camping ministry.  Pam served four years on summer staff and two years on ministry staff and is now serving as the on-sight kitchen supervisor. Pam grew up in the Covenant church and went onto Covenant Bible College-Ecuador and North Park University receiving a Psychology BA degree. Pam has spent many years in ministry working with various camps and YWAM in the US and around the world.
Erin Burkstrand
Ministry Staff
Erin grew up as a camper at Covenant Pines. From there, she became a SWEAT, volunteer, and then served on summer staff for four years. She is now serving camp in her second year of ministry staff after her graduation from University of Northwestern with a degree in ministry.
Silver Beach Family Camp
Covenant Pines Day Camp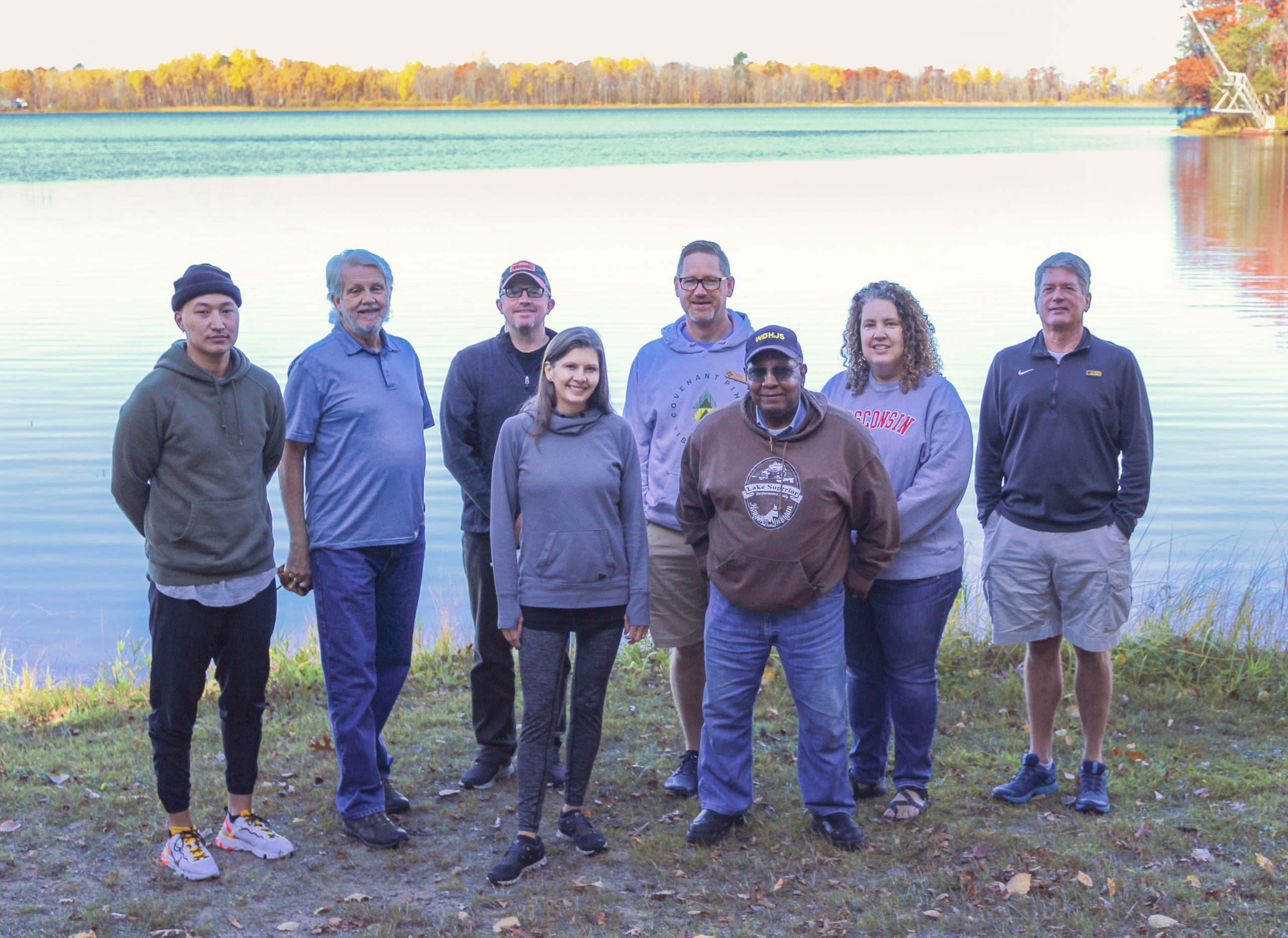 Board Members
CPM BOARD
(Left to Right)
Back Row: Tyler Klatt; Community Covenant Church Minneapolis, Bill Cranford; First Covenant Church St. Paul, Todd Joing; Wooddale Church, Dave Cairns, CPM Executive Director, Sara Sosa; Plymouth Covenant Church, Tim Gosen; Excelsior Covenant Church.
Front Row: Sarah Verdoorn; Salem Covenant Church, Herman Saul; Crosstown Covenant Church.
The Board of Directors consists of seven members. New members are elected at an Annual Meeting held each year in April. Members serve 3 year terms and are able to serve for two consecutive terms. Each owner church is allowed to send delegates at the Annual Meeting to vote on necessary business and elect board Members.