Our mission at Covenant Pines Ministries is to encourage campers to take their next step in Christian faith – whether that be introducing Jesus to them for the first time, a camper feeling compelled to return to church, saying yes to a mission trip…we aim to meet campers of all ages where they are at in their faith journey and encourage them to take that next step. Our vision statement is to change a life. We want your experience at Covenant Pines to be one that is unique and leaves an imprint on your heart – changes your life.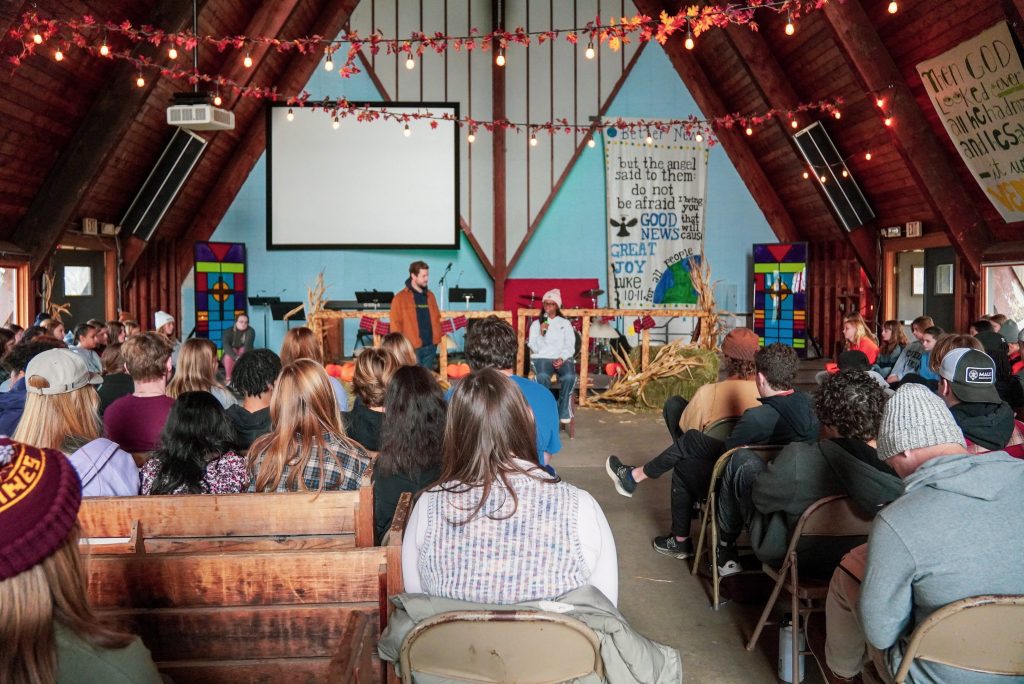 At our Senior High MEA Retreat at Covenant Pines Bible Camp this past October, the Saturday morning chapel looked a little different than the typical service. Our speaker, Sam Randall, invited students to share brief "faith stories" or "God moments" from their lives. This practice allowed campers to become familiar with sharing parts of their faith journeys, but also created a space where campers could relate to one another and realize they weren't alone. It was a moving morning of sharing, and many students talked about how they've seen God through their mental health struggles, addictions in their families, social pressures at school and more.
Three students in particular shared about how Covenant Pines had shaped their spiritual formation. One camper from Bloomington Covenant shared that he didn't necessarily have a major "moment" in his life where he felt a shift in his faith, but that the previous summer at camp had shaped him. On Next Steps night, his cabin mates were sharing their struggles, sharing their faith stories, and he felt compelled to listen and encourage his friends. He knew God had gifted him to be a good listener and a good friend; and that was revealed to him at Covenant Pines.
Another camper shared that he had never been particularly religious or spiritual, but has been invited to Covenant Pines by a friend. The chapel sessions admittedly were a little overwhelming, but at one point throughout the week a staff member had led a breakout session on worship through music. The time was more reflective and allowed campers to worship God through music in whatever form felt comfortable. This camper said for the first time, he felt freedom to worship in a way that made sense to him. He took these practices home and still worships through playing instruments.
Finally, a camper got up and shared that Covenant Pines was the first place where a true Christian community was revealed to her. She had attended camp before and had fun so continued to come, but one week at Senior High Camp, it was made clear to her that the people at camp were different. They supported her, encouraged her and allowed her to be herself. The community made her take her faith more seriously and want to continue to pursue Christian friendships more deeply outside of camp.
These are just a few snippets of stories shared by these students. We are fortunate to have heard these stories shared and feel encouraged that God is working through the ministry of Covenant Pines! We look forward to hearing more stories this summer – we'd love for your camper to join us. Click here to register and learn more about summer at Covenant Pines Bible Camp!