Cold weather has arrived at Silver Beach and the wind is blowing off Round Lake. How thankful we are that the new Cabin Two at Silver Beach is enclosed and interior touches are being made.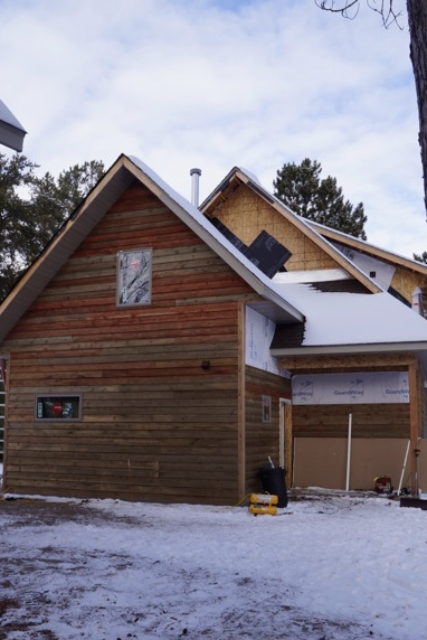 We're thankful for the blessing of volunteers that have sheet rocked, cut trim, taped, mudded and textured, hung doors and painted the first coat. For those who worked outside in the warm and cold installing siding, trim, windows, and shingles.  There is hope that in January Cabins 1 and 2 will be available to rent.  How grateful we are for the servants God has sent, for providing for not only one new cabin but for two.
We're praising God for the plans He has for Silver Beach, for the changes these new cabins provide for different seasons of ministry, and for the blessings these Cabins will bring to families, not only in the summer but all year long.
Looking for a quiet week or weekend getaway in the north woods? A fun-filled weekend with family and friends cross country skiing, having fun on the broomball rink, or settling in by the fire for game night? Come up to camp and rent White Pine or the new Cabins 1 and 2 at Silver Beach. Email Angie Sampson to book your stay. Silver Beach is also filling up for Summer 2015 so reserve your stay today.