On April 23rd, delegates from many of our Churches attended the Annual Meeting for Covenant Pines Ministries (CPM).
At the meeting, Director of Covenant Pines Bible Camp, Matt Braun, and Director of Adventurous Christians, Mike Nelson, both shared about this past year in ministry. Those in attendance enjoyed some Famous Dave's while listening to testimonies of the power of these ministries from past campers and staff.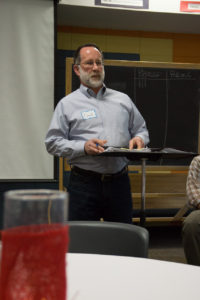 Board member, Geoff Woodbury, gave a brief overview of the financial reports for all of the ministries. When a delegate asked about the overall financial health of CPM, Geoff stated that all four ministries are in good health. Praise God for providing for these ministries year after year!
Mike Nelson, Director of Adventurous Christians (AC), shared what God has been doing this past year on the beautiful Gunflint Trail. The AC staff are very excited for the upcoming summer season. Mike encouraged member churches to take advantage of AC more often as either a retreat destination for relaxing in the winter, or a challenging canoe trip in the summer. To learn more about what's going on at AC, read their most recent newsletter and follow them on Facebook.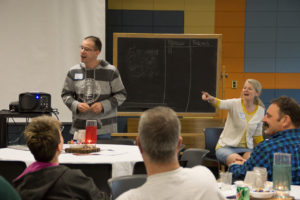 Matt Braun, Director of Covenant Pines Bible Camp, also shared about the past year in ministry. Matt invited Marketing Director, Tate Randall, Program Director, Holly Larson, Guest Services Director, Angie Sampson, and Maintenance Director, Scott Shoemaker, to share with the group a prayer request and also what they're excited about for the future of Covenant Pines. To keep in touch with Covenant Pines Bible Camp, sign up for our newsletter and follow us on Twitter, Instagram, and Facebook.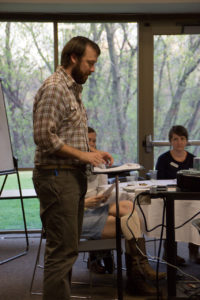 Toward the end of the meeting we all had to say goodbye to two of our Board Members. Geoff Woodbury and Sarah Swanson have served their terms faithfully. We are sad to see them go, but we're certain that they will continue to serve these ministries in a less formal fashion. Because of these two vacancies and another unfilled spot on the Board, three new members were unanimously voted to join the team. We're happy to welcome Latoya Jackson, Herman Saul, and Bill Cranford to the Board of Directors.