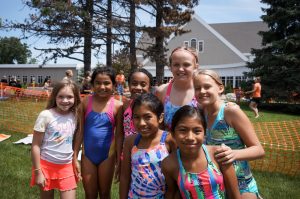 Day Camp this summer was full of tie-dye, friendship bracelets, games, and singing the theme Bible verse at the top of our lugs. More importantly, day camp was filled with a lot of conversations about hospitality. Campers learned what hospitality is, where and whom we should show hospitality towards, and most importantly, how God shows us the ultimate form of hospitality when He invites us to live with Him.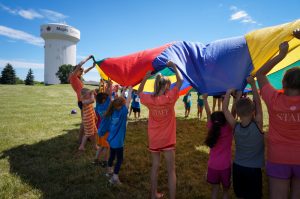 While every week at day camp was a successful week and we saw a lot of campers accept Christ throughout the summer, our week at Plymouth Covenant seemed to be especially fruitful. We had nine campers accept Jesus! While every single one of those decisions deserves celebration and praise, there were a couple in particular where we were able to hear more of their story. One camper had previously had some long conversations with her parents leading up to day camp about what it would mean to accept Jesus. At day camp is then where she officially took the step of accepting Him! Another camper started the week feeling very nervous to come to day camp because she did not know anyone else that would be there for the week. But throughout her four days at day camp she not only accepted Jesus, she also became so excited about day camp that by the last day she wanted to get there an hour early. After her week at day camp, her mom decided that she would begin sending her daughter to AWANA at Plymouth this fall.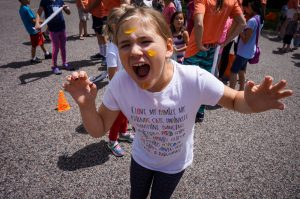 I also wanted to write about Plymouth because of one of the volunteers. One of the unique things that Covenant Pines Ministries does well is getting students involved in helping us lead – at the Bible Camp we have an awesome junior staff program and at Day Camp we have teenage volunteers at most of the churches. When arriving at Plymouth, I was very excited to see one volunteer in particular because she had been in my cabin a couple summers ago when I was a counselor at CPBC. While she was in my cabin she decided to follow Jesus for the first time. I can still remember sitting in Chapel with her, both of us so excited that she had taken the next step of claiming Jesus as her savior. At day camp, she was able to take another next step in her faith by sharing her faith and making disciples. By the end of the week she, along with other volunteers, had even expressed interest in helping out in children's ministry when the school year starts again. Experiencing all of this was a reminder of how God uses camp as a part of his long-term plan for our lives. The work He is doing at the Bible camp impacts the work He does at Day Camp, which also impacts what He is doing at schools and churches throughout the Twin Cities.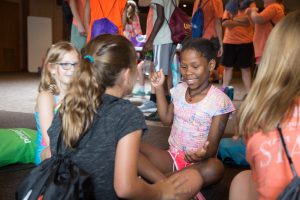 We had a wonderful time at every single church, but Plymouth stands out in my mind not only because of the campers that took the next step of accepting Jesus, but there were also multiple volunteers who took the next step of going and making disciples. Our week there was a reminder of the long-term mission God has for us. Important next steps in our faith not only happen when we take the leap of accepting Jesus, but when we take the steps of telling others about Him. Next steps can even take the form of deciding to send your child to AWANA. Our prayer for everyone who experienced Covenant Pines this summer – whether that be in McGregor, in the cities, or in the Boundary Waters – is that camp would help them discover what next step God is calling them to take.