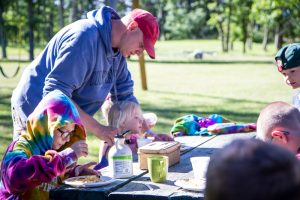 Silver Beach Family Camp offers a unique opportunity for families to spend focused time together and Experience the Community of Christ. Since 1994 Dennis and Beth Holman have set aside a week every summer to connect and grow with family and friends at Silver Beach. Summer 2017 marked their twenty fourth summer here. We had an opportunity to sit down with them and hear about what Silver Beach has meant to their family. What they said can really be summarized in these simple and impactful ways.
ANTICIPATION- There is an excitement as they pull into Silver Beach that they can't describe and they talk about for months prior to arrival. Every year brings new excitement for how God will work through what they do, how they spend time together, and the memories that are made. They said coming to Silver Beach feels like coming home to just spend time with each other.
BUILDING RELATIONSHIPS- God works in amazing ways while they are at Silver Beach. Dennis had this to say about how this intentional time is set apart in a new generation, "Families are being torn by so many different diverse opportunities that draw our attention away from each other. Silver Beach gives God the opportunity to reconnect and establish solid connections."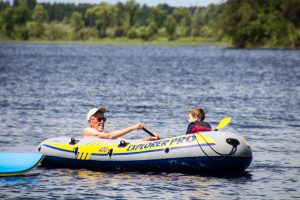 INTERGENERATIONAL CONNECTIONS- As the Holmans enter their twenty fourth summer at Silver Beach, their family looks a lot different than it did when they first came up. They now enjoy several generations, all connecting with each other. This year, two-year-old grandkids were experiencing a lot of "firsts." They went fishing and tubing, they tye-died a tshirt and braved the rope swing all for the first time. The parents got to share in these moments and look back on their first time doing those same things.
NEXT STEP- We asked the Holmans how Silver Beach has encouraged their family take some Next Steps over the years. They pointed to the opportunity to see God in his creation; the daily sunsets, the stars in the night's sky, the gift of the beach and beauty of the lake. They said it's easy to see God's fingerprint at Silver Beach. It is also clear to this family how he moves in the community of friends that become family and how God works behind the scenes in these relationships. Their time at Silver Beach has left marks in their family legacy!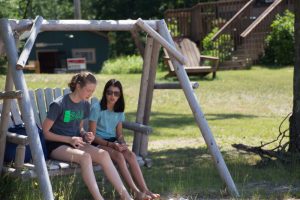 When we asked why this week continues to be a priority for them, the Holmans answered, "God's working in our family, our kids, our grandkids, and that is what continues to make a week at Silver Beach a priority." The Holman testimony reflects just one family's story. There were many families blessed by Silver Beach and the community God forms and brings together. It has been a true blessing for us this summer to be apart of the plans He has!