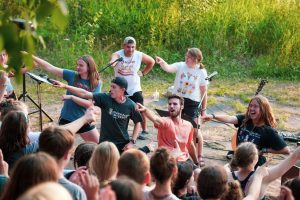 Each spring as the weather (supposedly) warms up, there is a sweep of anticipation around camp as we prepare for the summer. Not only with the excitement of having campers and canoe groups, but every summer our community expands as we welcome our summer staff. Our year round staff is joined by college students and young adults who commit their summer to serving our campers, families and canoe groups at both Covenant Pines Bible Camp and Adventurous Christians.
As you pray for our summer at camp, pray for our summer staff! These young adults join us and spend the summer at camp doing all sorts of things. When you think about spending a summer at camp, you might picture a summer full of big games and swimming in the lake, which is definitely part of it! But these summer staffers also spend the summer developing as leaders, being stretched physically, and having guiding spiritual conversations with our campers. Our summer staff are the ones carrying out our mission in the summer as they encourage campers to take their next step in Christian faith. Working at camp for the summer is fun, but it is also life changing.
One former staff member shares that, "Working on summer staff will stretch you and give you valuable new experiences – professionally, relationally and (especially) spiritually. You can't ask for a more rewarding summer job."
Staff are trained for their summer of ministry, but when the summer is over they head back to their schools, homes and local church contexts. These young people take what they have learned, the ways they've grown and their new leadership skills and apply them to their everyday lives. Some of them end up working in ministry like us, while some go on to be teachers, doctors, accountants and general contractors. What they experience at camp for the summer will stick with them in whatever their future holds.
Please be in prayer for these young people as they lead this summer. Pray that our full time staff would train and lead well, but that God would also be the one leading all summer long. Pray for wisdom, energy, and joy for our summer staff!