For the past two months we've had some new staff members with us and we thought we'd introduce you to them! Nate Hutchins-Peterson (HP) and Phillip Bestland (Flip) joined our Ministry Staff team in early January.
HP grew up coming to Covenant Pines Bible Camp. It wouldn't be a stretch to call camp his favorite place in the world. He grew up at First Covenant Church of St. Paul, attended North Park University for two years, and worked at camp for two summers on our maintenance team. Recently he transferred to Hennepin Tech where he has been studying diesel mechanics. Part of his work at Covenant Pines is helping to fulfill his internship requirements for school. In just a short while he'll be switching to part time so that he can finish his classes. We'll miss him during the week, but we're glad that he'll still be around on the weekends! HP enjoys heavy metal music, Teenage Mutant Ninja Turtles, penguins, and Taylor Swift.
Flip attended Minnehaha Academy and Buffalo Covenant Church as a young lad. For college he went to Bethel University and studied theater major. For the past four summers he has worked on our maintenance staff. For three of those summers, he served as our Assistant Maintenance Director. As a member of our Ministry Staff team, Phil uses his maintenance knowledge to help keep our facilities in working order and he is using his theater skills to enhance our programming. Recently he used his acting skills to portray a character named Alpine Everest, a famous Scottish mountain climber, at our Trailblazer Retreat (pictured right). Flip enjoys anime shows, Xbox One, frisbee, and sleeping.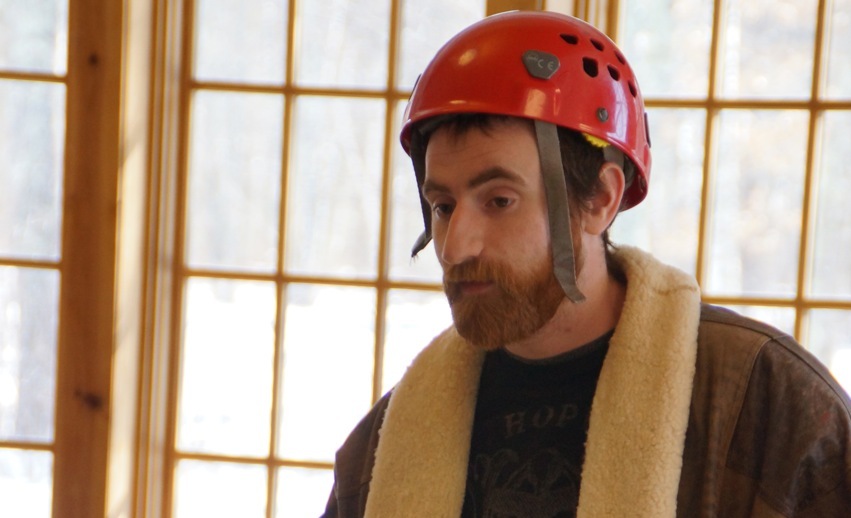 We feel extremely blessed to have these two men on staff with us. They add so much joy and silliness to our year-round community. Consider volunteering at camp to spend some quality time with these young men!