TOTAL FUNDS RAISED: $80,383
Campers come to camp expecting to move… walking between buildings, running during games, swimming in the lake and paddling in canoes. Movement is foundational to what camp is. Campers are continuously on the move…one step after another…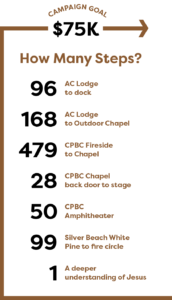 But a different type of movement is also occurring – a movement of the heart. In ways we can't understand, the camp setting is often the place of decision in a person's life. It is the place where campers take a Next Step in their faith journey. For some, the Next Step is a first step in response to the gospel message. For others, the Next Step is furthering their call to be a Jesus follower. No matter where campers fall on the continuum, camp calls them to take a Next Step.
It's now your opportunity to take a Next Step. I ask that you take the Next Step to financially support Covenant Pines Ministries. Your gift ensures that campers will be challenged to grow in their faith…to take a Next Step as they grow in their understanding of Jesus. Your gift will support the counselors, staff, trail guides and speakers as they come alongside campers. It is my prayer that all campers will take a Next Step.
Dave Cairns
Executive Director
We have set a goal of $75,000 to be raised for Covenant Pines Ministries prior to Dec. 31st.