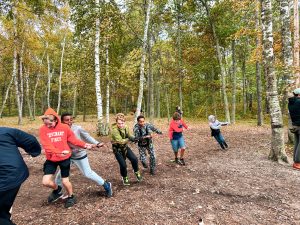 Though summer is often our busiest time of year, ministry still continues as we transition into our retreat season. And this past September, we had one of the busiest transitions yet. Starting after Labor Day, Covenant Pines had mid week groups at camp each week through the first week of October, including 3 school groups on school retreats.
It has been exciting to see these school groups utilize camp as a way to create memories and build relationships for their students. It is also exciting to see these new partnerships emerge with these schools and continue to create experiences for students in the retreat season. We were delighted to have Hope Academy, Lakeview Christian Academy and Minnehaha Academy join us this fall. This is in addition to the day retreats we have been hosting for the McGregor Schools BARR program!
We also were fortunate to have the Covenant Retired In Ministry Retreat as well as our first ever Pickleball Retreat as midweek groups in September. Adventurous Christians led a half day of leadership experiences at Stella Marais School in Duluth in September as well.
Between Covenant Pines Bible Camp and Adventurous Christians, CPM served nearly 1400 guests and served close to 7000 meals so far this fall. That is just about how many campers Covenant Pines would serve in one summer! Our staff is tired, but fulfilled! It is great to see churches, colleges and school groups use camp as a way to further their ministries' mission, and to see their organizations thriving with robust attendance at their retreats.
Our retreat season is off to a busy start and will continue to be so! It feels great to have a flourishing retreat ministry. Today we welcome over 100 high school students and 25 leaders for our Sr. High MEA Retreat at Covenant Pines and we just wrapped up a staff retreat for Lake Beauty Bible Camp at AC, with a guest group arriving tonight as well. Keep Covenant Pines Ministries in your prayers as you remember!