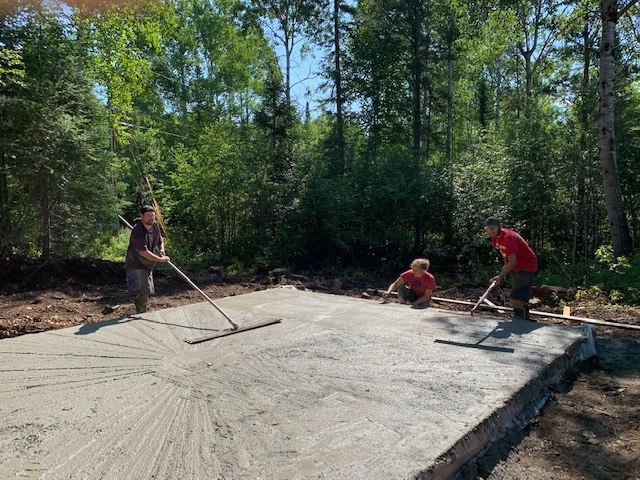 Greetings from AC! It has been an unusual summer for us up here on the Gunflint Trail. Our hands and minds have been busy looking and working ahead even as we miss the hustle and bustle of canoe groups every week.
With a small summer staff we devoted our efforts to rebuilding our Office and Sauna that burned down last summer. So far we have poured the concrete foundation and put up framing for the walls of the Sauna. We see God's provision in each step of this process through everything from blocks of good weather, volunteers coming to help and materials arriving. It's exciting and encouraging to see progress being made on this project and we are looking forward to closing in the buildings in the next couple of weeks.
Besides construction, we have been working on setting ourselves up for success by getting a head start on maintenance projects and making COVID-19 plans. Often in the summer months we don't have time to devote to maintenance projects, so we are taking advantage of these warmer months to get lots of work done. In adjusting to a new normal with Covid-19 we are making plans for how to run fall and winter retreat safely. This unusual season has given us an opportunity to work behind the scenes and prepare for our next season of ministry.  We are praying and hoping for God's heart to guide us as we make decisions now about things we don't know about yet or have control over in the future. Please pray with us about wisdom and future plans.